If you live anywhere in the "River Bend" area of Iowa – Cedar, Clinton, Muscatine and Scott counties – and you need help getting around, River Bend Transit is there for you. RBT's lift-equipped vehicles and courteous drivers specialize in serving people with disabilities and the elderly who may need some assistance. Our 70 vehicles crisscross 2,157 square miles – in a single year traveling more than a million miles -- in rain, sleet, snow or sunshine.
Here's how we serve you:
RBT does not operate like a regular city bus service; its buses do not cover a fixed route. Each trip is designed to meet your individual needs.
RBT also takes riders to University Hospitals and Clinics in Iowa City.
In rural areas, RBT serves a different portion of each county on its designated day, Monday-Friday. For more information visit County Services or see Fare Cards for detail rates.
RBT vehicles are equipped with specialized lifts or ramps to aid riders.
Our courteous drivers assist anyone who needs help to enter and exit a vehicle.

Your Personal Care Attendant (PCA) rides free.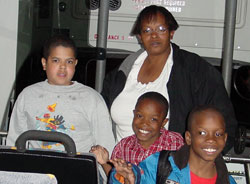 Michelle A. (Davenport)
"I depend on River Bend Transit's nighttime service to bring me home from work and pick up my boys – Robert, Michael and Derek – from daycare three nights a week."
Note: All services are open to the general public, including persons with disabilities.