All drivers have undergone thorough background checks and must meet stringent federal drug and alcohol testing requirements.

Every driver participates in regularly scheduled training in the areas of safety, customer service and vehicle operation.

All RBT vehicles are in constant communication: each vehicle is radio/video equipped and are tracked using GPS throughout our service area day and night. We use state-of-the-art scheduling and mapping systems. RBT's scheduling and mapping systems are state-of-the-art, and consistently updated to ensure accuracy.

For your safety on board:
Please stay seated

Fasten lap and shoulder straps

Drivers will secure lap and shoulder straps for passengers with mobility devices

All mobility devices are required to be secured by the driver

Children 5 and under must be secured in passenger-provided car seats or booster seats

Keep aisles clear of shopping bags and other carry-on packages
For courtesy's sake:
Respect other passengers and the driver

Don't litter

Food, non-alcoholic drinks in covered container only aboard vehicle

Use of toacco, alcohol, and illegal drugs prohibited

River Bend Transit wants your feedback. If you have a complaint, see a problem that needs fixing, have a suggestion of any kind, or want to compliment someone -
please contact River Bend Transit.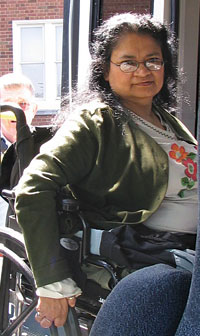 Espey G. (Davenport)
"The River Bend bus picks me up at 7 every morning and takes me to the school where I teach. Later, it takes me to my second job. If I have errands or appointments, I notify them two or three days ahead."